Automation
Solution for Tunnel Safety
Case Study: Robust and Uninterrupted Network Solution for Tunnel Safety
Industry: Roads
Location: Malaga, Spain

Background
As accident preventive measures, and for the protection of drivers, surveillance, communication, and information systems need to be deployed along tunnels due to the magnitude of the damage that could be caused in the unfortunate case of an accident like explosions, poor visibility, and lack of oxygen. Our Spanish customer wanted to deploy an IP network with lighting systems, IP cameras, digital signage, and VoIP phones along two tunnels, which require a LAN-connection to transmit and process data.
Challenge
The customer needed to enable remote access and 24/7 all year round operation with no interruptions and long-distance transmission to the control center. The tunnels are located in Malaga, Spain, a city of subtropical-Mediterranean climate with very mild winters and hot summers. In addition, tunnels present unfavorable conditions such as vibration, humidity, and high temperature.
Solution

Volktek used INS-8528 managed industrial network switches resistant to harsh environments with 2 SFP ports for high bandwidth uninterrupted fiber transmission of data, long connectivity to the control center, and ensure network redundancy. As well, VLAN and IGMP per port for effective traffic utilization.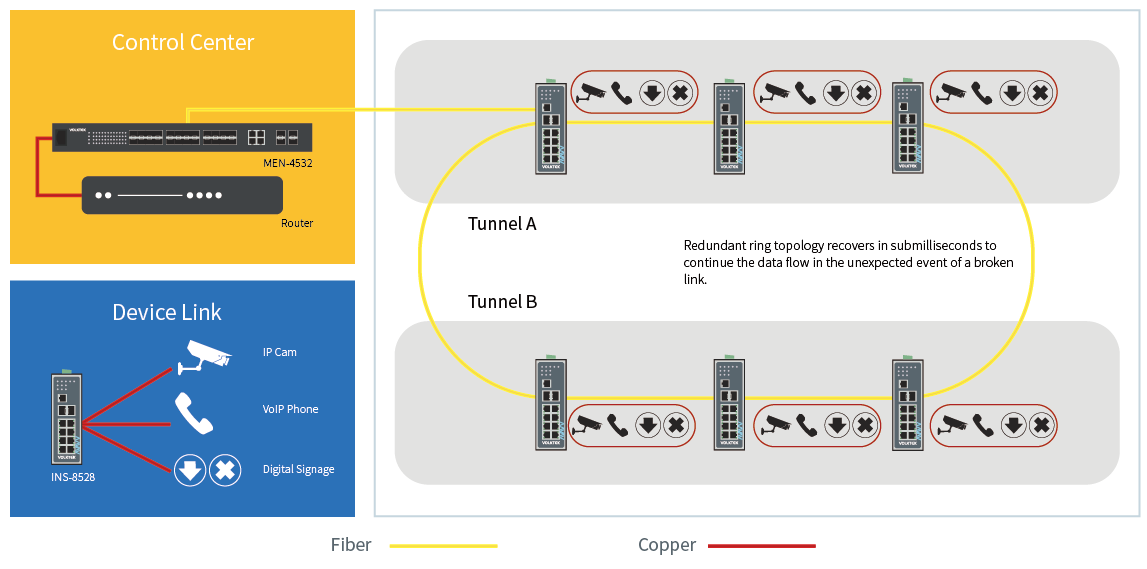 Benefits
•

The network offers flexibility and high scalability opportunity for expansion or interconnection to other adjacent networks.

•

Redundant power inputs with power isolation make sure the switches operate non-stop. An alarm activates when the primary power source malfunctions and the secondary power source starts providing power.

•

The switch is stored in a roadside cabinet thanks to its compact size.
Conclusion
The solution can operate all year round thanks to its rugged hardware features, redundant power to assure it is always on, and Ring topology to make sure that data transmit with no interruption. If the devices needed to be replaced or the network needed expansion the solution offers simple scalability to change its size.